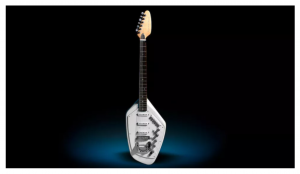 Ian Curtis of Joy Division met an untimely and unfortunate death by suicide on May 18, 1980. While his band members went on to shape the music of the 1980s in the form of New Order, he would never enjoy the fruits of his early labours.
Fast forward to today – 40 years after his passing – to find his Vox Phantom VI guitar is up for auction.
https://www.musicradar.com/news/ian-curtiss-joy-division-vox-phantom-vi-special-guitar-is-up-for-auction
The guitar was made famous when Joy Division filmed their video for 'Love Will Tear Us Apart', a song that
The guitar seems to have passed from the possession of Bernard Summer, guitarist with New Order,
If I were a rich man, here's what I would do: buy it and then 'match' the purchase price with a donation to an international mental health / awareness group to help minimize the unfortunate death of so many bright lights and personalities around the world.
Post script:
It sold for a mere $US 210,000.